Black Labrador puppies - Truebred Labradors
We realise that many online searches are made for black Labrador puppies for sale, black Labrador puppy, black Labrador retriever, black Labrador dog, black Labradore, black Labrador breeders, black Labrador dogs, black Labrador pictures, black Labradors for sale, black lab, black retrievers, etc.
If you are searching for these then you will probably like to know that we do breed black Labrador puppies, and that we have a litter at different times throughout the year.
Our Labrador puppies are bred from quality champion bloodlines and which are purebred with registered pedigree certificates. Parents are screened for hip dysplasia, elbow dysplasia, progressive retinal atrophy (PRA), and exercise-induced collapse (EIC).
Before any of our Black Labrador puppies for sale leave us, they are all Vet checked, vaccinated, microchipped, wormed, and are provided to their new families with a range of items (at no extra cost) such as pet insurance, puppy guide, feeding information, vaccination certificate, pedigree certificate, dog ebooks, etc.
All of our Labrador puppies are raised in a family environment on a rural property. They are socialized with kids, other pets, etc and also familiar with the various home noises and conditions, such as lawn mowers, whipper snippers, concrete, pavers, grass, sand, etc.
Considerable time is spent with our black Labrador puppies for sale to help get them as best prepared as possible for the transition to their new family and home. This includes ample familiarization with being handled, groomed, given a rub, time away from their siblings, etc, etc.
We hope that the above information about our black Labrador puppies for sale is of assistance. Details about getting a puppy from us are at this link.
Here are a few of our black Labrador puppies bred by us: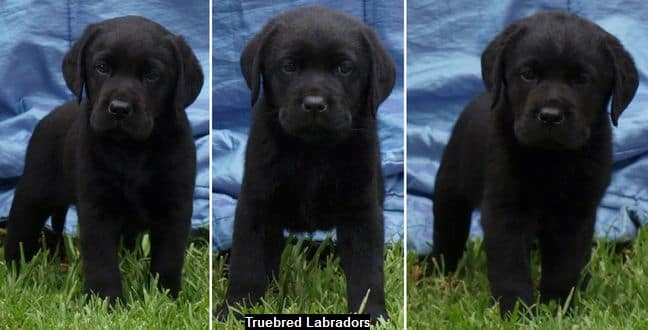 As we have a number of black female Labradors, we normally have at least a few litters per year of black Labrador puppies so please feel free to contact us to make an inquiry etc. While we have had experience with the three different coloured Labradors, and we also breed yellow, our preference is for the black.
Here's a short video of some black Lab puppies playing:
Quick Q & A
Q: What is a black Labrador?
A: It is a Labrador (officially known as a Labrador Retriever) that is the colour black.
Q: How much are black Labrador puppies?
A: They can vary considerably in price, depending on the quality, health tests, etc., etc.
Q: Black Labrador puppies with white spot?
A: It is not uncommon for black Labradors to sometimes have a white spot or patch on their chest.
Q: Why is my black Labrador turning brown?
A: It may be because the Labrador has yellow or chocolate genes. It is not uncommon for black Labradors to sometimes have a brownish tinge. Some Labradors have less pigmentation in their nose etc which can lead to being a lighter colour. These are sometimes known as Dudley Labradors. Here is an article I wrote about them.