Import Export a Labrador puppy [October 2021]
Are you searching for top quality Labrador puppies? Maybe to export from Australia? Or to import to Singapore, Hong Kong, Hawaii, etc? We can help you get a top quality Labrador puppy.
Puppies departing us can be air transported from Sydney, Newcastle, Port Macquarie and/or Taree airports. Two pet transport services that we suggest you consider using are either Dogtainers or Jetpets. It is also a good idea to get a couple of quotes from different service providers.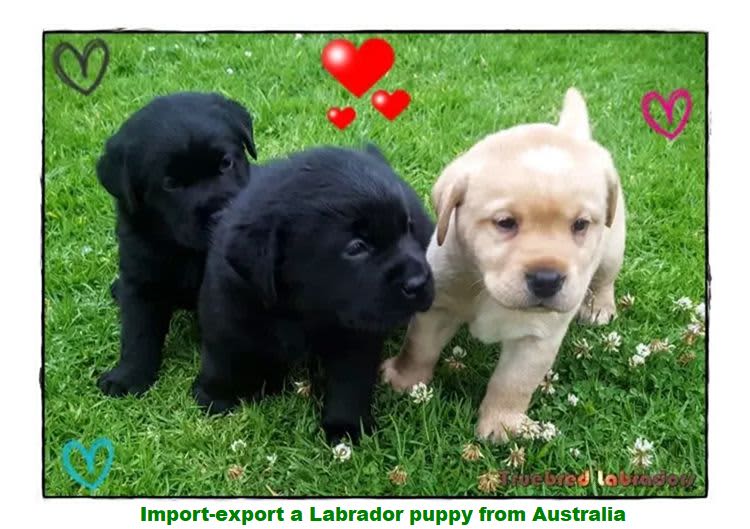 If you are considering importing a Lab pup to Singapore, then there is some useful information at the following webpages:

Pet travel; and

Dog import info.
Government information is also available at:

Singapore government pet import info.
Please peruse our informative Labrador website in order to see the high quality of our Labrador pups, and the reasons behind why they should be at the top of your list.
You can also check out our awesome reviews at https://labradors.id.au/about-us/reviews/, which clearly establish and support our reputation for high quality.
If you are seriously interested in importing or exporting a Labrador puppy, then please do not hesitate to contact us at https://labradors.id.au/about-us/contact/.
As you may expect, our pups are in high demand. So if you want a top quality pup, please be prepared to go on our waiting list.
This list is not intended to be exhaustive, however, some of the areas that we may service include:
Australia,
New Zealand,
United Sates of America,
Canada,
United Kingdom,
Singapore,
Hong Kong,
Hawaii,
American Samoa,
Brunei,
Cocos (Keeling) Islands,
Cook Islands,
China,
Christmas Island,
Fiji,
Micronesia,
Guam,
Indonesia,
India,
South Korea,
Malaysia,
New Caledonia,
Norfolk Island,
French Polynesia,
Papua New Guinea,
Solomon Islands,
Taiwan,
Tokelau,
Timor-Leste,
Tonga,
Tuvalu,
Vanuatu,
Wallis and Futuna, and
Samoa.
Reviews and ratings
5 star reviews: