Labrador nose condition Hereditary Nasal Parakeratosis HNPK
What is Hereditary Nasal Parakeratosis HNPK in dogs?
Hereditary Nasal Parakeratosis or HNPK is a genetic disease that affects some dogs or canines, such as Labrador Retrievers.
Symptoms have been reported as including: "dry, rough; gray to brown crusts on the surface and edge of the nose. In some cases, painful cracks around and on the tip of the nose develop and if not treated develop superficial bacterial infections."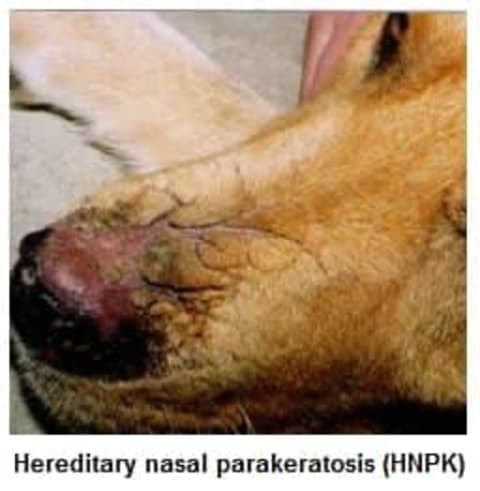 Unfortunately some breeders do not test for this condition. Worse are the breeders who continue to breed even when knowing that they are producing puppies with this life-long condition.
Hereditary Nasal Parakeratosis HNPK treatment
It is understood that there is no known cure for Hereditary Nasal Parakeratosis or HNPK. However, some research has reported that the condition can be treated with vitamin E, petroleum jelly, and propylene glycol in water. These treatments have been reported to help reduce the symptoms. Ongoing treatment is required throughout the life of the dog.
Hereditary Nasal Parakeratosis HNPK tests
Testing of breeding stock by breeders is believed to eliminate this condition. The test is a DNA test which can be done from a swab of the dog's mouth. Tests results have been getting received in about four to six weeks. Various DNA testing laboratories can undertake the testing.
Below is an example DNA report showing test results for Hereditary Nasal Parakeratosis HNPK for my stud dog: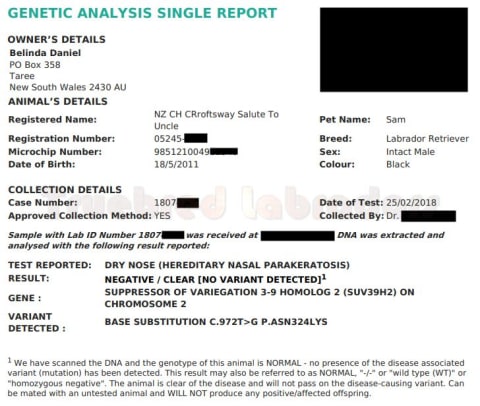 Please note that the above report has been redacted and a watermark added to minimise its use in online scams or fraud.
HNPK test results can be reported as being either CLEAR, AFFECTED, or CARRIER. In the report above, the result is CLEAR.
In relation to then using the test results to select suitable breeding stock, here is how the combinations of test results could be used to assess suitability: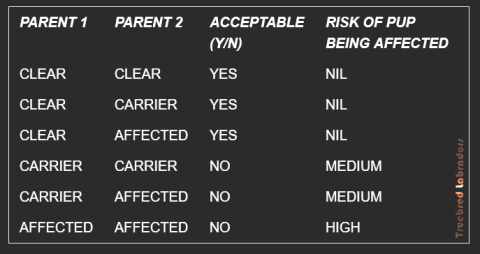 I hope that the above has been of interest or assistance. Here's an infographic also for you to share and/or save: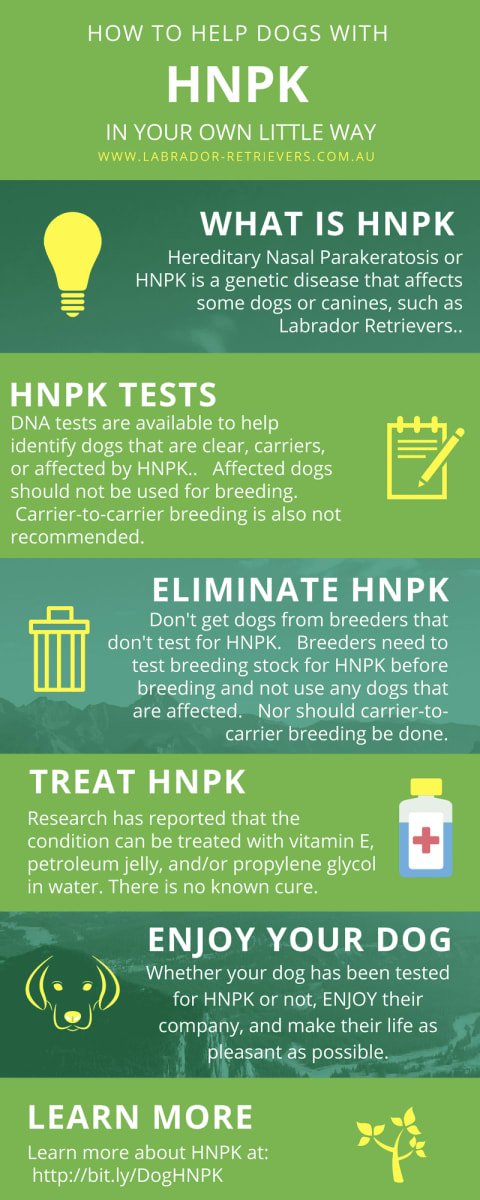 It would be awesome if you could share this: