Top Labrador puppies for sale Brisbane QLD | August 2022
Want to find Labrador puppies for sale Brisbane QLD? Are you near Brisbane, Ipswich, Caboolture, Gold Coast, or Sunshine Coast QLD? Then look no further, as we can help you!
We are often amazed at how many people are looking to find a puppy, or looking for a reputable dog breeder in Queensland.
All of these Labrador puppies are purebred with registered pedigree papers. They are bred by an experienced and registered Labrador breeder, and from champion bloodlines. The puppies are also bred from parents that offer a good mixed gene pool, with a number having been imported to Australia. Inbreeding depression can be addressed by this, and adds to the quality and health of the puppies.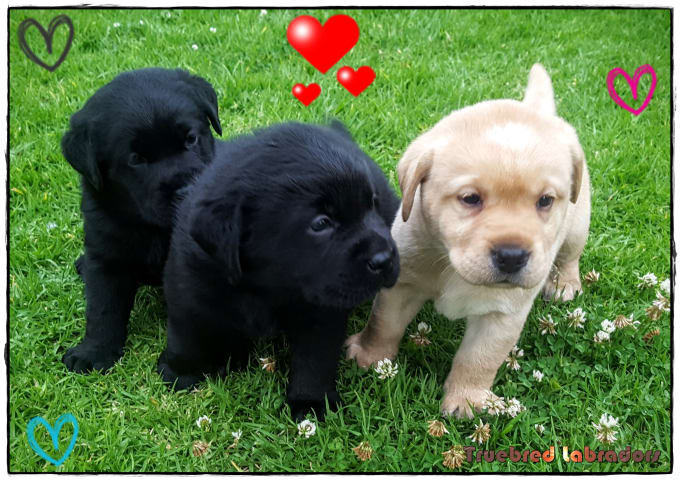 This litter of Labrador pups for sale Brisbane is expected to have black and yellow puppies, and males and females. They will be available to go to their new families when they are at least eight weeks of age.
These Labrador pups will be vet checked, vaccinated, microchipped, wormed and have six weeks free insurance. They are also registered as a purebred, and as such, has recorded pedigrees, issued under the ANKC (Australian National Kennel Council).
Our puppies go to families in Australia, and we have years of experience in the preparation, organization and delivery of our puppies to their new families, wherever they may be.
DELIVERY TO BRISBANE QLD
Air delivery to Brisbane varies at times, and as at 24/9/15 it is $165, which includes pre-flight Vet inspection certificate, air delivery, and your own crate (which you can keep, sell, etc). Air delivery to Brisbane is to Brisbane Airport near Eagle Farm and Nudgee. Normally flights are scheduled so that your puppy departs early in the morning which allows for it to travel mostly during the times that animal care staff are on duty at the airports.
Here are a few more examples of air delivery to other QLD destinations:
Cairns: $255
Gold Coast: $170
Townsville: $240
So if you are looking for Labrador pups for sale Brisbane, look no further. Contact Belinda at Truebred today:
Reviews and ratings
Check out our numerous 5 star reviews here on our site
Full details of our reviews and ratings are available here.
Thanks for visiting my Labrador puppies for sale Brisbane QLD webpage.
Current puppies
We currently do not have any Lab puppies available.
We do not expect to have puppies. Due to the large number on our waiting list, no more names are currently being taken.