Labrador puppies for sale NSW Australia - October 2021
Current Labrador Puppies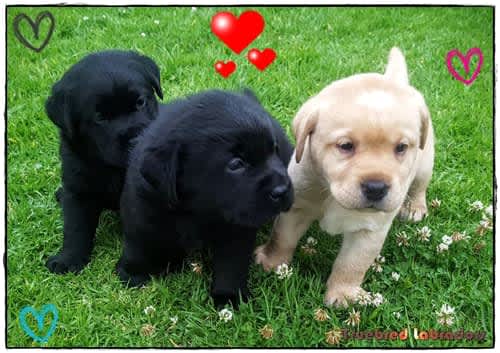 Looking for a Labrador puppy for sale? Black, white, cute, brown, grey, female, male, happy, choc, golden, yellow, pure, high quality, etc? Or maybe other registered Lab puppies for sale? Then you've come to the right place!
Truebred have been breeders of Labrador puppies for sale in New South Wales (NSW) Australia since 1997. They are registered Labrador breeders with Dogs NSW, Sydney, Australia.
Our puppy breeding program is required to meet strict and mandatory standards for the breeding, care, etc. of the Labrador puppies.
What that means to you is that you can be assured of the level of care, welfare, and attention that our Lab puppies and their parents have received. This results in you getting a Labrador puppy of the highest quality and health etc. Also, every Labrador Retriever puppy that leaves our kennel has a Vet check, vaccination and a microchip prior to going to their new home.
We consider ourselves to be small-scale Labrador Retriever breeders and only breed a few litters of Lab pups per year. We prefer quality over quantity. This allows us to be able to spend more time with the pups individually. We feel that this is important, and adds to their socialisation, behaviour, and/or temperament for when they go to their new families. We hope that all of our puppy owners are happy with the service that they receive. Our reviews are a testimony to this.
If you want to buy one of our Labrador Retriever puppies, then please note that our Lab pups normally sell quickly (and we believe they represent good value, given the high quality). Often they are adopted by families at various destinations throughout Australia. Many go to families in the Sydney, Central Coast, Newcastle, Wollongong, and regional NSW areas. We also have happy puppy owners in various other locations, such as WA, QLD, VIC, other parts of Australia, and overseas.
Each of our Lab puppies for sale is provided to their new owners with a range of items etc, which include (for example) free insurance (conditions apply), dog ebooks, pedigree (registered) papers, vaccination certificate, microchip documents, puppy care ebook, and puppy pack. We also offer a customer satisfaction guarantee so that if within 3 days the puppy is not acceptable to you for any reason, then we take the puppy back and refund you 50% of the purchase price.
The Royal Canin puppy packs that we provide at no extra charge include some great items, such as:
the booklet "Your puppy's first year" which has some great information and places to record important details of your puppy;
Pooper scoop bags and holder;
your unique code to obtain a free bag of Royal Canin puppy food which gets delivered to you;
the option to obtain a discount voucher of 25% off Royal Canin products; and
the option to obtain a further discount voucher of 25% off Royal Canin products (conditions apply).
LABRADOR PUPPY DELIVERY
If you would like your Labrador puppy delivered, then that too can be arranged. For example, our Labrador puppies have gone to various destinations, such as Sydney, Central Coast, Newcastle, regional NSW, Canberra (ACT), and throughout Australia. Puppies can also be collected directly from us.
We have been able to negotiate some terrific prices for air delivery, which include:
pre-flight Vet check certificate for the puppy,
air delivery, and
a crate that you may keep, sell, etc.
For puppies that are travelling by air, they normally board their flight at Port Macquarie airport, and normally fly with Qantas.

.
Our Labrador puppies are bred in a family environment and are socialised with other dogs, children, adults, etc. They also enjoy their rural five-acre property.
These quality Labrador puppies normally go to their new homes when they are at least eight (8) weeks of age. This is for a couple of reasons.
Firstly, they are Vet checked, vaccinated, microchipped, etc. at six (6) weeks of age. Then they remain with us for the further two (2) weeks to help their immunity to respond etc. to the vaccination before they leave us.
Secondly, it is our understanding that it is also a law for puppies for sale in NSW not to be sold or leave our care until they are at least eight weeks (8) of age. We believe that this is sensible, especially so that the Labrador puppies for sale are of adequate maturity before going to their new homes, and to also allow for their immune system to adequately respond to the vaccinations.
To optimise the individual development of the puppies, and to also help with the transition to their new families, the puppies are fed individually before they leave us.
The parents of the puppies are screened for various conditions, including hip dysplasia, elbow dysplasia, progressive retinal atrophy (PRA), Hereditary Nasal Parakeratosis (HNPK), and exercise-induced collapse (EIC). They are also from champion bloodlines.
Some providers are selling puppies well in excess of $2700 each, and with less testing or screening for health conditions, and having lower quality parentage lines, etc. Even some pet shops, such as in Sydney, are charging more.
The parents of our current puppies are valued at about $20,000, due to their premier quality, pedigrees, health screening, importation from overseas, etc. So, our puppies are competitively priced at $2700 each. Details on obtaining a puppy are here.
LABRADOR PUPPY PHOTOGRAPHS
Photographs of some of our Labrador puppies from past litters here: Labrador puppies pictures.
We hope to add more puppy pictures plus any updated information.
CHOCOLATE LAB PUPPIES FOR SALE
Please note that we normally do not have any chocolate Labrador puppies for sale. Black and golden yellow Labradors puppies are our preference.
ACT NOW
As our Labrador puppies normally are all ?adopted? and go to their new homes at eight weeks of age, due to their popularity, we suggest that if you are seriously interested in obtaining one, please act quickly. Details on obtaining a puppy are here.
Please do not hesitate to contact us if you any inquiries in relation to Labrador puppies for sale in NSW Australia. Please note that we try to keep our website up-to-date with details of any impending or proposed Labrador puppies for sale.
Here are some short youtube puppy videos also.
REVIEWS AND RATINGS
Check out our numerous 5 star reviews here on our site
Full details of our reviews and ratings are available here.
QUICK Q & A
COST OF LABRADOR PUPPIES IN AUSTRALIA?
A: The cost of Labrador puppies in Australia can vary considerably. Some can be reasonably cheap, and from people who do little or no testing of the breeding stock, have bitches and pups with poor diets, and generally poor care. Prices go up to the more premier quality Labrador puppies which come from quality breeding stock that have registered pedigrees. Also breeding stock are tested for various health conditions, and the dogs and pups are well cared for.
Q: HOW MUCH IS A LABRADOR PUP?
A: Our Labrador pups are $2700.
Does your Labrador pup chew a lot?
Labradors, being a Retriever, love to have things in their mouth. The best idea, of course, is to give them things that are OK to have in their mouth and to chew. We find many of the chew toys made by Kong to be pretty good. There are now a wide range available. Here are a couple of pages on this site with more details:
NO PUPPIES AFFECTED
Due to the testing and screening procedures that I use, NONE of my puppies will be affected by PRA, HNPK, or EIC.
REGISTERED LABRADOR BREEDER
If you wish to confirm my registration as a registered breeder, then you can view my Dogs NSW/ANKC details here.
OUR LOCATION:
Full details of our reviews and ratings are available here.
Current puppies
We currently do not have any Lab puppies available.
We do not expect to have puppies. Due to the large number on our waiting list, no more names are currently being taken.